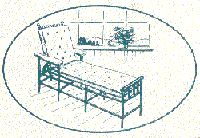 Historic Saranac Lake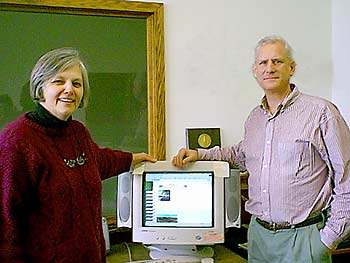 Mary Hotaling Executive Director of Historic Saranac Lake (HSL)
and Rob Grant President of Adirondacks.com

HISTORIC SARANAC LAKE AND WWW. ADIRONDACKS.COM HARNESS THE POWER OF THE INTERNET TO PRESERVE THE RICH HISTORY OF
SARANAC LAKE, NY
In a unique twist, modern technology and the internet will be used to help preserve and restore historic landmarks in the village of Saranac Lake, NY. Rob Grant, president of Adirondacks.com & Mary Hotaling, Executive Director of Historic Saranac Lake, announced today a unique online partnership designed to build awareness and focus public attention on the rich history and remarkable architecture in Saranac Lake.
"Our goal is to use the internet to promote the many unique programs that Historic Saranac Lake has initiated and to showcase the organization's efforts to preserve and restore historic buildings throughout the community of Saranac Lake," said Rob Grant.
Historic Saranac Lake was originally formed as a not-for-profit organization to secure designations on the National Register of Historic Places for landmarks in and around the community. Since it was incorporated in 1980, the organization has listed over 170 properties to the National Register. HSL has also operated a rural preservation company, completed a comprehensive housing survey and two rehabilitation conferences, fully rehabbed two historic houses in the community and published two books and two videos on local history and architecture.
Current projects include management of the recently restored Union Depot, restoration of the Bartok Cabin, and -- most immediately -- the restoration of the former Saranac Laboratory of Dr. E. L. Trudeau as a new museum and offices. "The new Laboratory museum is our dream project, and our new partnership with Adirondacks.com will help bring it to the attention of people all over the world. It's a very timely partnership, and we're delighted to be involved."
"Historic Saranac Lake will join Adirondacks.com's growing network of non-profit internet partners. Our goal is to provide Historic Saranac Lake with exposure to a vast new online audience," said Rob Grant. "This will benefit both HSL and the entire community."
To preview Historic Saranac Lake online please visit www.Adirondacks.com or go to www.historicsaranaclake.org
For further information please contact:
Mary Hotaling, Executive Director, Historic Saranac Lake, 518-891-4606,
email: HistoricSaranacLake@verizon.net
Rob Grant, Pres., Adirondacks.com , 518-891-3745, email: robgrant@adirondacks.com


click here to visit HistoricSaranacLake.org