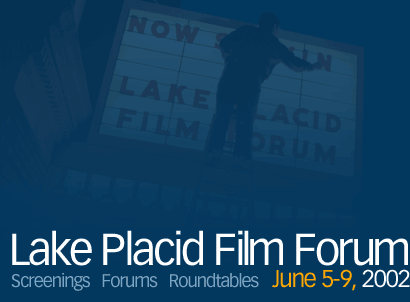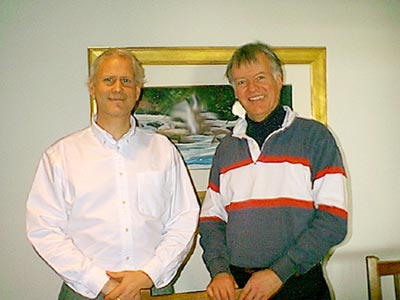 Naj Wikoff (right), Lake Placid Film Forum
and Rob Grant Pres. of Adirondacks.com

Adirondacks.com and The Lake Placid Film Forum create a unique online partnership to showcase the annual Lake Placid Film Forum.




The Lake Placid Film Forum is an intimate setting for filmmakers and film lovers to see films and discuss issues of content and the medium. The Forum screens over 60 outstanding shorts, documentaries and feature films and presents forums, roundtables, master classes and readings of screenplays, honors the lifetime achievement of a distinguished filmmaker, and provides an array of opportunities for teen filmmakers.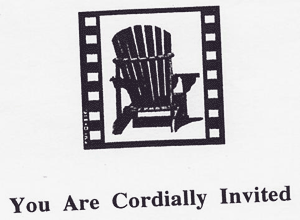 Presenters:

THELMA ADAMS
critic, Us Weekly
RUSSELL BANKS
author, Affliction,
The Sweet Hereafter
BEN BARENHOLTZ
executive producer
Requiem for a Dream
MICHAEL BARKER
Co-President, SONY
Pictures Classics
BRIAN MICHAEL BENDIS
writer, The Ultimate Spiderman
EAMONN BOWLES
President, Magnolia Pictures
TERRY BYRNE
Chair, Communication Studies,
College of New Jersey
SUSAN CHARLOTTE
Artistic Director
Food for Thought Lunch Hour Theatre
JAY CRAVEN
director, screenwriter
Where Rivers Flow North
GUILLERMO DEL TORO
writer/director, Cronos,
The Devil's Backbone
IRA DEUTCHMAN
President and CEO
Emerging Pictures
KAREN DURBIN
critic, Elle magazine
PAOLA FRECCERO
SVP, Film Programming
Sundance Channel
NEAL GABLER
media critic, historian
RICK GODIN
independent producer
JORDAN B. GORFINKEL
former editor of
DC Comics (Batman)
WILLIAM GREAVES
director, Ralph Bunche:
An American Odyssey
RAY HARRYHAUSEN
special effects: Jason
and the Argonauts
LYNDA A. HANSEN
producer's rep
Trembling Before God
GARY GLEN HARTWICK
VP, Technology and
Operations, Viacom
BOB HAWK
artistic/marketing
consultant
TIM HERLIHY
screenwriter, Mr. Deeds,
The Wedding Singer
EUGENE HERNANDEZ
Editor in Chief/Manager
indieWire
MARILYN HOROWITZ
Prof. of Screenwriting, NYU
Graduate Film School
JAMES H. KAYE
Assist. Exec. Dir., Writers
Guild of America, East
MARIAN KOLTAI-LEVINE
EVP, Marketing
Fine Line Features
ALBERT MAYSLES
cinematographer
director, Gimmie Shelter
ELVIS MITCHELL
critic, New York Times
MIKE MIGNOLA
creator, Hellboy, concept
artist Blade 2, Atlantis
JOHN CAMERON
MITCHELL
writer/director/actor
Hedwig and the Angry Inch
MIRA NAIR
director, screenwriter
Monsoon Wedding
JOHN V. PAVLIK
Executive Director
Center for New Media
RAOUL PECK
writer/director/producer
Lumumba
JOHNNIE PLANCO
agent, co-founder
Parseghian/Planco
PARKER POSEY
actor, House of Yes,
Personal Velocity
REX REED
critic, NY Observer
LINDA REISMAN
producer, Affliction,
Light Sleeper
CLIFF ROBERTSON
actor, director, Charley,
Spiderman
KAREN ROBSON
entertainment lawyer
JOHN SAYLES
writer/director
Sunshine State
PAUL SCHRADER
director/screenwriter
Affliction, Raging Bull
CAMPBELL SCOTT
actor, director
Big Night, Hamlet, Final
SUSAN SEIDELMAN
director, Desperately
Seeking Susan
JOAN MICKLIN SILVER
writer/director, Hester
Street, Crossing Delancey
RAPHAEL SILVER
producer, Hester Street,
Crossing Delancey
KEVIN SMITH
writer/director, Clerks,
Chasing Amy, Dogma
TOM TOPOR
screenwriter, The Ac-
cused, playwright, Nuts
JOHN TURTURRO
actor/director Illumi-
nata, actor, O Brother
Where Art Thou
MARK URMAN
Head of US Distribution
ThinkFilm
RICHARD WESLEY
playwright, Salt and
Pepper, Talented Tenth
MICHAEL ZAM
Assoc. Dir., Programs in
Humanities, NYU
Lake Placid Film Forum: June 5 - 9, 2002:
An intimate setting for filmmakers and film lovers
"A dream film festival" - Lou Lumenick, film critic, New York Post
"The Lake Placid Film Forum is different from other film festivals" - Norman Jewison, director (The Hurricane)
"An encouraging and inspiring and fun time" - Kate Montgomery, director (Christmas in the Crowds)
Honorees:
John Sayles - writer director (Sunshine State, Paris Texas)
Parker Posey - The Queen of Independent Films (Personal Velocity)
Ray Harryhausen - special effects pioneer (Jason and the Argonauts)
Presenters - Over 100 directors, writers, actors, producers including:
Actors: John Cameron Mitchell, Campbell Scott, John Turturro
Agents & Lawyers: Lynda Hansen, Bob Hawk, James Kaye, Johnnie Planco, Karen Robson
Comic Book writers/producers/artists: Brian Michael Bendis, Jordan Gorfinkel, Mike Mignola
Critics: Thelma Adams, Karen Durbin, Eugene Hernandez, Elvis Mitchell, Rex Reed
Directors: Albert Maysles, Mira Nair, Paul Schrader, Susan Seidelman, Kevin Smith
Producers: Ben Barenholtz, Paola Freccero, Linda Reisman, Mark Urman, Raphael Silver
Studio Heads: Michael Barker, Eamonn Bowles, Ira Deutchman,
Writers: Russell Banks, Guillermo del Toro, Neal Gabler, Elmore Leonard
Forums:
SERIOUSLY FUNNY: Using Comedy as a Means of Social Commentary
REEL HEROES: Comic Books to Film
THE GLOBAL IMPACT OF HOLLYWOOD
STAYING INDEPENDENT IN AN AOL/TIME-WARNER - McWORLD.
Roundtables:
THE PLAY¹S THE THING: Stage to Screen
IT¹S COMEDY THAT¹S HARD
DISTRIBUTION
CHASING AMY: A CASE STUDY
AGENTS AND LAWYERS
ARE CRITICS AN ENDANGERED SPECIES?
THE ART OF SPECIAL EFFECTS
FILM FINANCING TODAY
THE ART OF COLLABORATION
RIGHT TURNS MADE WRONG: An Intimate Conversation
FILMS AND THE INTERNET
THE PRODUCER¹S REP

Master Classes (limited to 15)
SCREENWRITING: JOHN CAMERON MITCHELL
DIRECTING DOCUMENTARIES: ALBERT MAYSLES, WILLIAM GREAVES
DIRECTING NARRATIVES: JOAN MICKLIN SILVER, MIRA NAIR
PRODUCING: BEN BARENHOLTZ, LINDA REISMAN
ACTING: JOHN TURTURRO, CAMPBELL SCOTT
FROM FIRST DRAFTTO FINAL CUT: BOB HAWK
STUNTS, STUNT SAFETY: LESLIE HOFFMAN
Films: Announced April 15, 2002
Over 60 International features, documentaries and Shorts
And:
Readings of screenplays
Daily luncheons and post screening parities
Book signings
Special all day NYU Screenwriting Seminar with Michael Zam and Marilyn Horowitz



Click here to visit the Lake Placid Film Forum website!